For the latest installation of our myfood greenhouse we found ourselves somewhere in the Lorraine region of France between the cities of Toul and Bar-le-Duc. Here we met Christophe and his parents who manage several permaculture gardening plots at their home. Now the myfood greenhouse is part of the landscape of the picturesque village of Guerpont. We are thankful for their warm welcome and we wish them good luck with their greenhouse!

The myfood team at the GreenTech exhibition in Amsterdam
Last month we joined the Association for Vertical Farming (AVF) and attended the AVF Summit in the Netherlands aiming to bring together innovative actors in this field. We had the chance to exchange with other startups and established companies and to look to them for inspiration. We hope to be a part of the exhibition next year!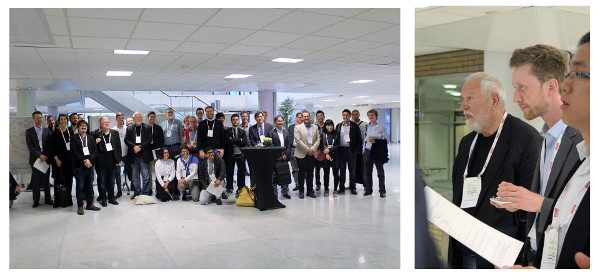 Myfood Supply Chain Manager Kevin Morgan-Rothschild in a breakout session alongside Dickson Despommier – author, professor and a founding father of the vertical farming movement.
The Third Industrial Revolution has begun at the Pall Center in Luxemburg
After several meetings and a letter of support from Jeremy Rifkin's team, we will now launch a project in the Grand-Duchy of Luxembourg. More information to come in the next several weeks…

Crowdfunding compaign on Ulule already at 33%! Myfood needs YOU!
Support our partner at aquaponie.biz – Pierre Harlaut to finance a complete audit of his myfood greenhouse and help to establish the concept of aquaponics in France and elsewhere.
Day after day he documents and shares his experiences and results with the myfood community. Do not hesitate to share this campaign with your friends!
Enregistrer
Enregistrer
Enregistrer