The first question that comes to mind: is a connected greenhouse profitable?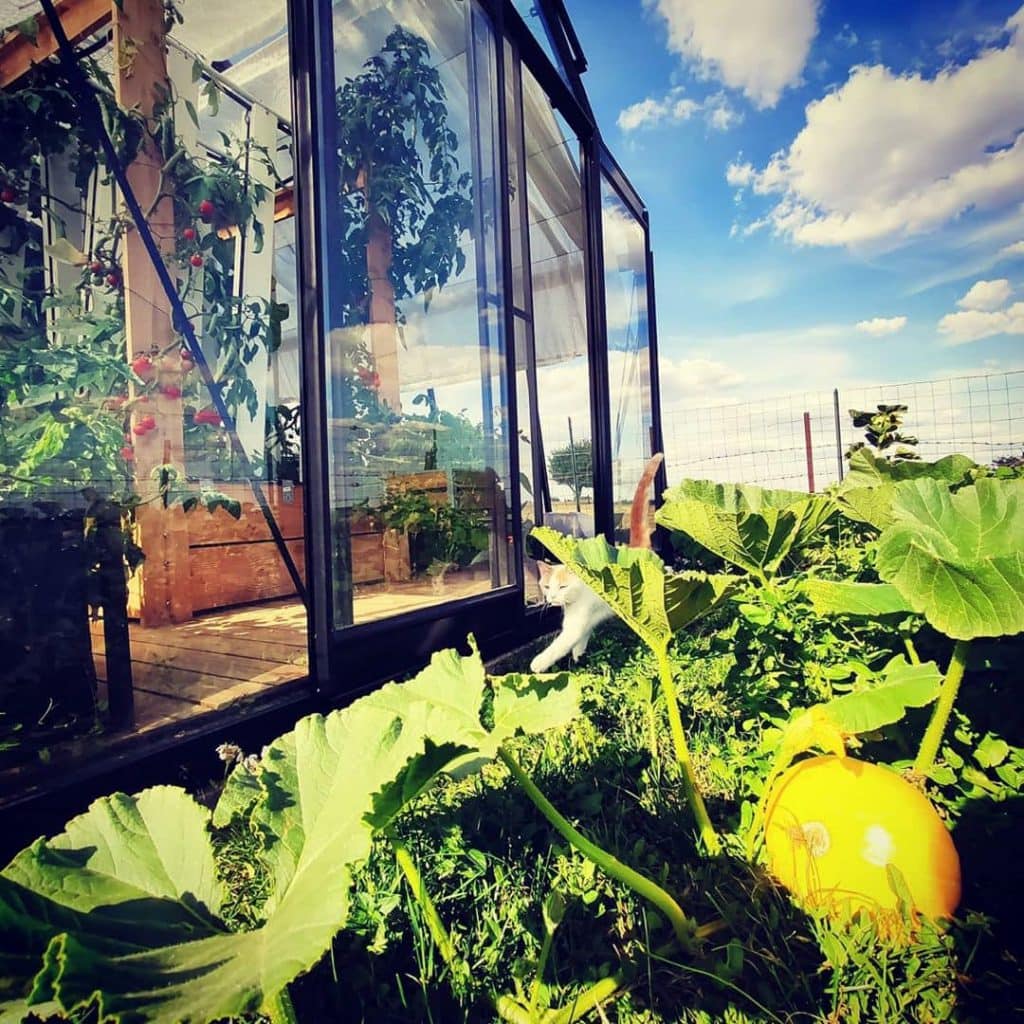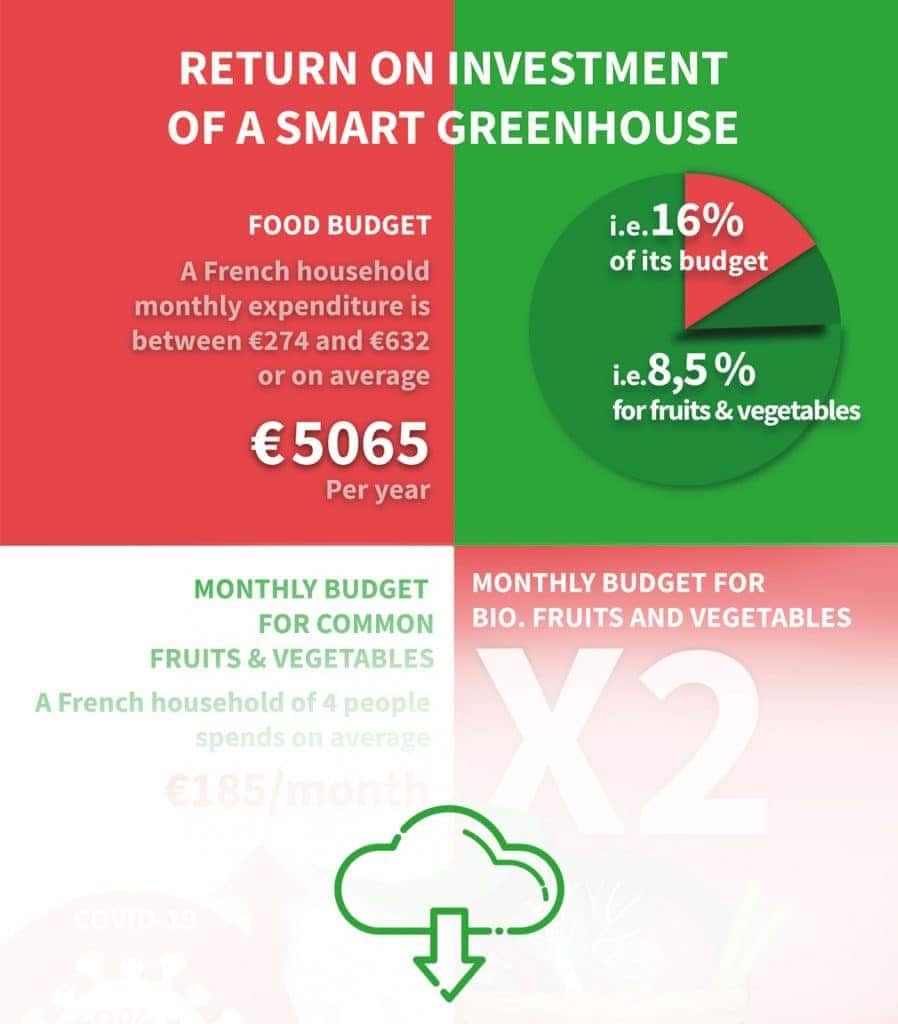 Changing consumption:
Eating 5 fruits and vegetables a day, ok but at what expense?
In order to clarify the return on investment of a connected greenhouse, it is important to make some observations. The consumption of fruits and vegetables for a 4-person household currently represents a cost of 185€ per month (based on 350g/day instead of the recommended 400g/day).
Although the vast majority of French people seem to agree on the benefits and importance of fruits and vegetables (84%), it is understandable that there is a "deliberate" cutback in budgetary expenditure in view of the rising prices of fruits and vegetables.
Food budget of a French household
A French household spends between €274 and €632/month, or an average of €5065 per year. In other words, fresh fruits and vegetables represent almost 16% of total household expenditures and 8.5% of their food budget.
Unsurprisingly, price remains the primary choice criterion for 43% of households when shopping.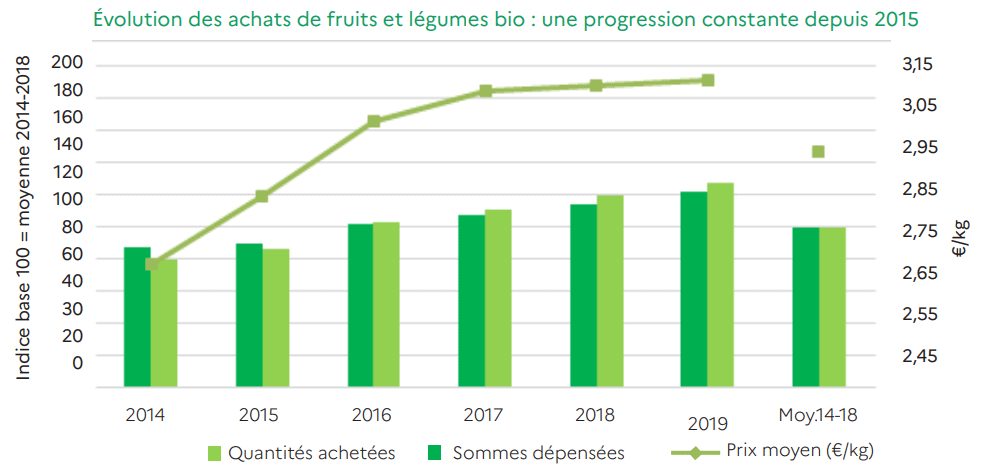 Lockdown: fruits and vegetables prices on the rise
For example, in 2020, the association "familles rurales" carried out a study of the prices of fresh fruits and vegetables on an average basket of 8 fresh fruits and 8 fresh vegetables, conventional and organic.
In short: in one year the price of fruits increased by 17% in conventional agriculture and by 6% in organic agriculture. The price of vegetables increased by 4% in conventional and 1% in organic farming.
Between June 2019 and June 2020, the price of a basket of one kg of fruits increased from €30.26 to €35.36 in conventional and from €56.21 to €59.61 in organic.
Between June 2019 and June 2020, the price of a basket of one kg of vegetables rose from €20.46 to €21.34 in conventional and from €36.71 to €37 in organic.
So connected greenhouse or not?
The myfood greenhouses were designed to address these issues and offer consumers alternatives.
Let's take the example of: our smart greenhouse Family22 production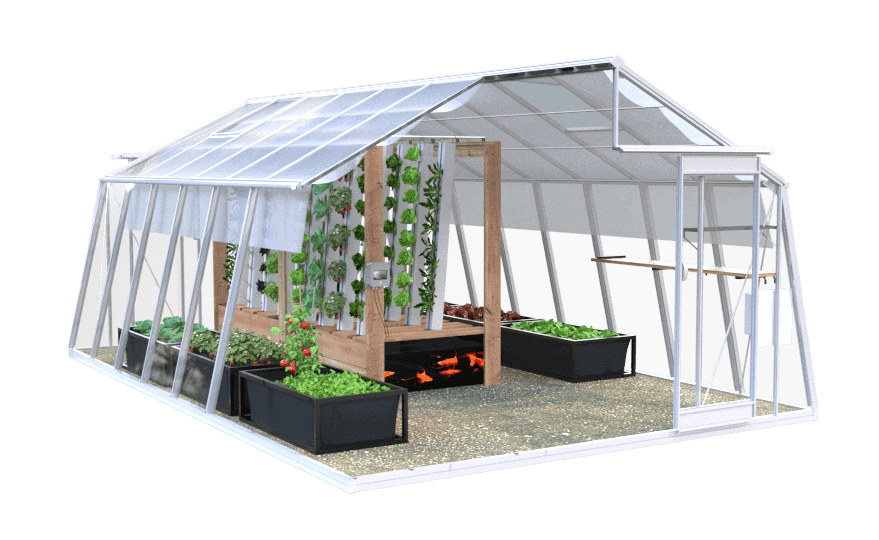 Calculation of return on investment by budget shift
The budget usually allocated to the purchase of fruits and vegetables in the shop is transferred to a productive investment.
The connected Production greenhouse can produce up to 80% of the nutritional requirements for a 4-person household.
Using the price values only for conventional fruits and vegetables for a 4-person household: the family would recover its purchase in 6.6 years.
Similarly, for a 4-person family with an organic diet: the household would pay for itself in 3.5 years.
Furthermore, if we convert the production of a greenhouse into euros based on market prices, it would generate an income of €1750 per year, without consumables.
Increasing waste
10 million tonnes of edible food are thrown away every year in France. This represents €108 per French person in one year, or €408 for a four-person household.
What are the causes?
Food waste seems to be mainly due to poor fridge management and overbuying of products.
One greenhouse = 0 waste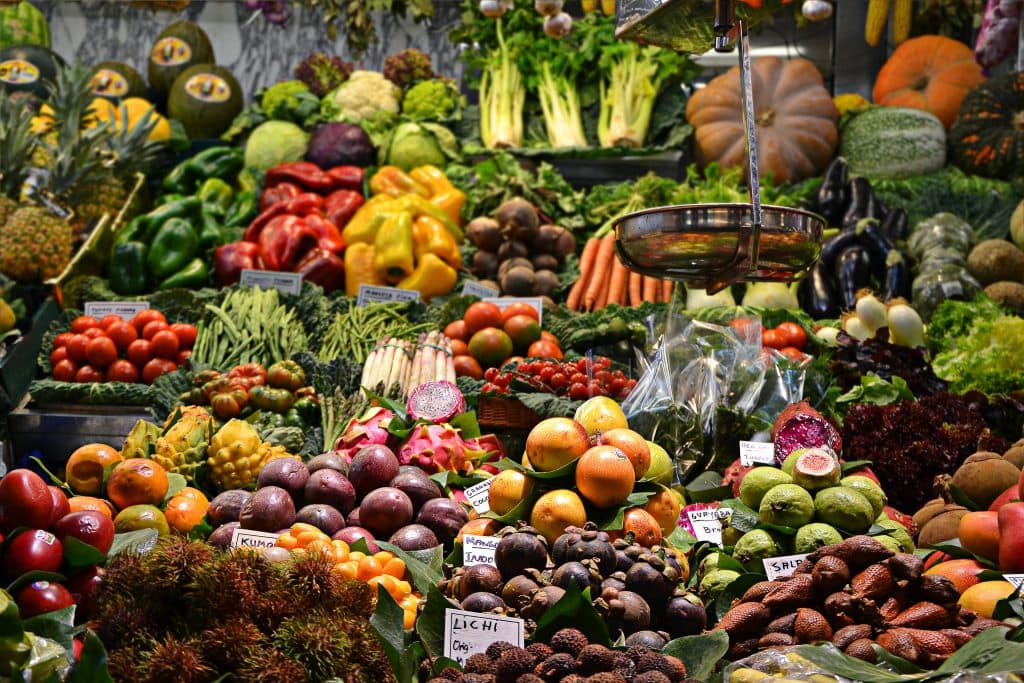 In conclusion, the greenhouse provides an answer to this poor handling of fresh food. The user will pick only what he needs for the meal without worrying about running out or having miscalculated the quantity for the next meal. Even if the user overproduces, he/she can in any case keep it or give it away. Organic waste can be reused for composting, for example. The return on investment of the connected greenhouse is there and is set to last.
In addition, significant savings can be expected in the long term, unlimited access to 100% natural and fresh products; the innovative greenhouse is a profitable and sustainable solution!

Sources :
https://www.insee.fr/fr/statistiques/4127596
Achats+de+fruits+et+légumes+frais+par+les+ménages_+Données+2019.pdf (franceagrimer.fr)
Une augmentation du prix des fruits et légumes en 2020 | Dossier Familial
https://www.moneyvox.fr/actu/79221/courses-pourquoi-vous-avez-impression-de-payer-plus-cher
https://www.lemonde.fr/les-decodeurs/article/2018/06/07/le-gaspillage-alimentaire-en-france-en-chiffres_5311079_4355770.html