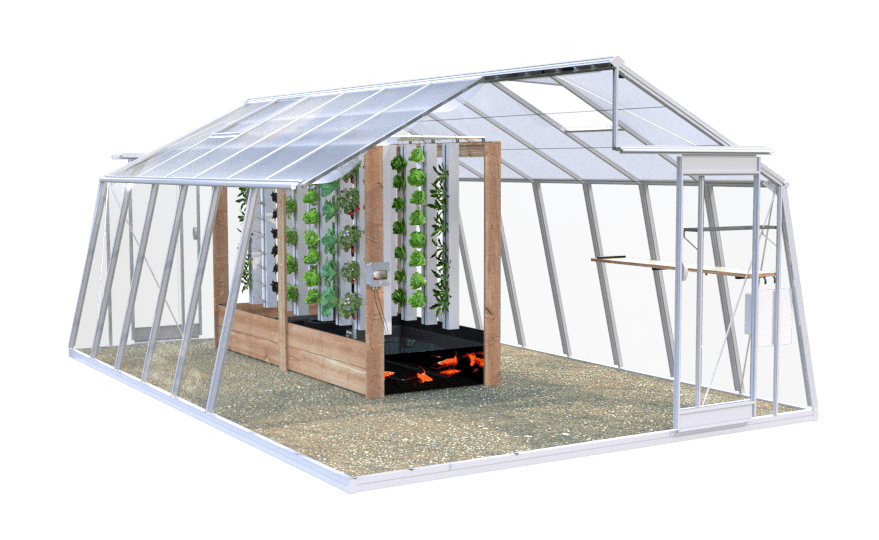 family Original
Purchase Price
€8990 incl. tax
Online Booking Price : €499 incl. tax
Shipping Included
01
Presentation
Technical Specifications
Presentation
Presentation
Technical Specifications
Presentation
Our smart greenhouses allow everyone to reconnect with their food and grow their own fruits and vegetables. Without pesticides and a limited carbon impact, it is now possible to benefit from fresh and healthy products in complete autonomy.
The family Original offers all the essential tools to produce your own vegetables and fruits: aquaponic system, connectivity and community support.
You can book your aquaponic smart greenhouse and become a Pioneer Citizen, a 2.0 gardener who promotes permaculture and natural growing techniques.
Technical Specifications
Dimensions
Surface area = 22,53m² / 593cm x 380cm (242 ft² / 19.45' x 12.47')
Max. height = 253cm / (8.30' / ridge)
Min. height = 172cm / (5.64' / gutter)
Weight
Greenhouse only = 650kg (1430lbs)
Full system loaded with water = 1500kg (3300lbs)
Operating Temperature Range
-5°C to 40°C (23°F to 100°F )
Power Specs
Single Phase 230V 50Hz
Consumption < 70W/h
Product Content
Aluminum Greenhouse 22m²
Automatic Openers (x4)
Greenhouse Ventilation
Integrated Work Table
Fish Tank (x2)
Wood Frame
Zipgrow Tower (x16)
Pump 4000l/h (1000gph)
myfood Solids Filter
Continuously Flow Irrigation System
Sensors & Monitoring system – myfoodapp
Welcome Box
03

Delivery, Installation and Support
Our smart greenhouses are delivered between 5 and 6 weeks after your order. Full installation in 1 day.
Start cultivating the next day!
Free access to the Hub web-app and Pioneer Community support.
04

Look at our Installations & Tutorials