Are you a regular reader of our newsletters or have you just discovered myfood?
Do you think that automated greenhouse gardening is a dream come true for some people?
But you're convinced that you need to take control of your diet?
Well, every day we talk to hundreds of committed citizens who are asking themselves the same questions as you.
We're going to talk about the top 3 questions shared by our future pioneers before they take the plunge. 🤔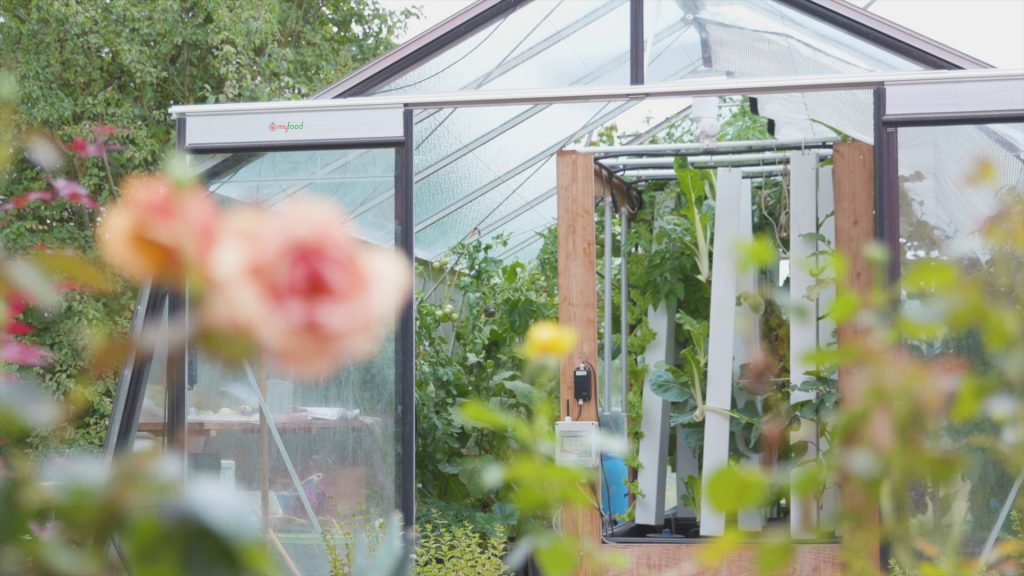 I've never planted a seed 🆚 I'm already an expert gardener
I don't have a green thumb, but then not at all!
In the space of two generations, we've gone from rural or suburban families fed by their vegetable garden to a society dependent on wholesalers and supermarkets. Our generation suffers from a lack of knowledge due to a lack of transmission. And to start from scratch with all of today's constraints (busy working lives, climate change, drought, the soil of recent housing estates, etc.) we really wonder how to get back to self-sufficiency.
But then, to start from scratch and take the risk of going into vertical cultivation in an aquaponic greenhouse, seriously? I'll never manage it!
The usual constraints of gardening are indeed quite numerous: knowing your soil, finding the right seeds, learning how to sow seeds, working, and amending the soil, knowing the seasons, hoeing, weeding, watering, chasing pests away… The list is long, so help me!
And what if we told you that it was precisely this distressing fact that led to the design of the Family greenhouse. Objective number 1: to remove almost all the discouraging constraints associated with growing crops.
Note that over 50% of users of the Myfood automated garden greenhouse had never grown a crop before taking the plunge. Whether it's beginner's luck or not, these new growers are surprising the community with their exemplary growing results.
And why is that? Quite simply because: 1. the aquaponic greenhouse eliminates tedious and boring tasks (watering, weeding, hoeing, tilling, etc.) and 2. the digital tools and the agronomic and community support make up for the lack of knowledge at the start.
So, if you're starting from scratch: all the better! You won't have any preconceptions or bad reflexes; you'll be on your own.
---
So, can we all do it? Well, thanks to Myfood YES. When you buy a greenhouse, you also buy services. In other words, support from Myfood and the whole greenhouse-using community, through tools…

— Thibault, Pionnier 660 (avis Trustpilot)
---
I've been growing my own vegetable garden for years. Why would I want a self-contained greenhouse?
On the other hand, if you're lucky enough to be a seasoned grower with years of gardening experience, what could an innovative greenhouse possibly do for you?
If you manage to be self-sufficient with your vegetable garden all year round, without spending too much time on it, without displeasure and without suffering from the vagaries of the weather, then well done, persevere!
Now, on a day-to-day basis, we at Myfood are bombarded with requests from suffering vegetable gardeners. And why is that? The problem is often threefold: 1. even with experience, the degree of annual autonomy barely exceeds 10 or 20%, especially when winter harvests don't weigh much; 2. the vagaries of the weather (drought, storms, hail, etc.) are becoming increasingly difficult to cope with; and finally, 3. the independent gardener is not allowed to go on holiday in the summer and prefers to have a back that's in good shape.
And we haven't even mentioned the other plagues of Egypt (aphids, slugs, caterpillars, mites, etc.). If you feel concerned by these problems, there's no need to despair right away.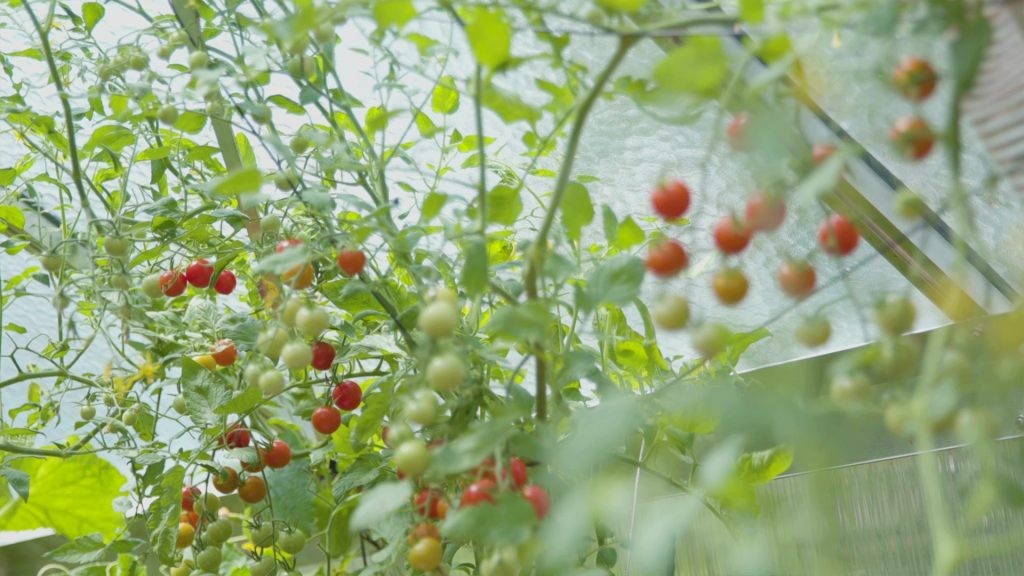 I really don't have the time 🆚 I'm taking advantage of my retirement to plant my vegetable garden
With my work, my travel: do I have time to manage a greenhouse?
Modern daily life is overloaded, geographically dispersed, and involves a heavy mental load. Why add growing fruit and vegetables to your weekly To-Do list?
The question needs to be asked differently:
Faced with inflation, the risk of shortages, the energy crisis, climate change and food scandals, how much longer will I be able to buy conventional products?
Couldn't I replace 1 or 2 hours of my time spent in the supermarket each week or in front of the screens? Couldn't I take some quality time with my children to enjoy fresh, nutritious food, while saving money at the same time?
Yes, as surprising as it may seem, the Myfood garden greenhouse requires no more than 1 to 2 hours a week for maintenance and cultivation. Quite simply, once you've done away with the time-consuming tasks (watering, weeding, tilling the soil, slug hunting, etc.), you've taken 80% of the work out of the equation.
To see for yourself, look at our greenhouse usage calendar, which will give you an idea of just how simple the tasks are: Weekly calendar. And really, if you want to keep time constraints to a minimum, you also have the option of growing your plants in bioponie, using natural plant fertilizers instead of aquaculture. It's even easier and recommended for people who are often on the move: Aquaponics or bioponics, make the right choice.
I've got the time! I'm taking advantage of my retirement to do some gardening.
As we all know, retirement isn't always synonymous with inactivity 😉
But isn't now the right time to use that time for something less servile? Because having time available and allocating it to digging, hoeing and watering is really a good use of your resources and energy?
Let's hear what our community has to say on the subject.
Jacques and Martine, who have been used to gardening in their vegetable garden for twenty years, were seduced by the Myfood garden greenhouse. So, they're continuing to grow vegetables in their retirement. Their testimonial is well worth the diversions!
It's too cold in my house in the mountains🆚 It's too hot in the south here
I'm at altitude, it snows a lot and it's too cold to grow anything
Vegetable gardens at altitude without a greenhouse are very limited during the year. Hence the importance of growing under glass. But is an aquaponics greenhouse really suited to conditions of heavy snow and/or low temperatures?
In winter, when it's very cold, and especially at altitude, it's clearly difficult to hope to grow winter varieties without a greenhouse. Now, is a greenhouse enough to give hope of abundant production?
The crucial factor in the photosynthesis mechanism is light! So, the first thing to look for is the right orientation, an unobstructed spot, and an idea of how much sun there is. Note that in full sun in winter (even with sub-zero temperatures), with the greenhouse effect, it's not impossible to find yourself growing in a t-shirt in the greenhouse! As for nights or periods when there's no sunshine, crops need to be protected from the cold by a range of devices available in modules designed for this purpose:
Winter module – automated pellet stove – find out more.
Insulation module – north face insulation and water heating resistors – find out more.
If you need convincing, look at the images of the impressive winter harvests of a Myfood pioneer in the extreme cold of Quebec: Amélie's Facebook page
You don't need a greenhouse to grow crops in the south, it's much too hot here!
On the other hand, this question can also arise, and that's normal, especially with global warming.
Another well-documented newsletter has already been published on this subject. We warmly invite you to read "Why grow under glass when the climate is warming up" 🌞
"I have one more quick question please!"
We can see you coming. You're now convinced that greenhouse growing really is for you. OK. But surely there's still that tiny little question of return on investment nagging at you, isn't there? Is it worth the risk?
Don't delay in reading our previous article on this subject, because investing in a greenhouse is a matter of 'financial' urgency.
And if you still have questions or objections, we won't leave you wanting more. We're here to help you eat well.
So come and ask us your questions directly here: